Calling all hamster owners! Looking for a fun and interactive way to keep your furry friend active and happy? Look no further than wheels and running balls! In this blog post, we'll explore the different options for wheels and running balls to suit your hamster's needs and preferences. Let's get rolling!
1. Popular Hamster Exercise Toys
Hamster wheels and running balls have become incredibly popular among pet owners. These exercise toys provide endless running fun for hamsters, keeping them agile and alert. There are many options to choose from, including transparent hamster balls and wooden or plastic wheels. Some models are even silent, perfect for pet owners who want their hamsters to exercise without disturbing their own rest.
It's essential to choose the right size for your hamster, and larger wheels are often better. These exercise toys are not only enjoyable but also serve as an effective way to relieve anxiety and eliminate boredom for hamsters. They're also suitable for a range of small animals, making them a versatile option for pet owners. With so many options to choose from, it's easy to find a hamster exercise toy your pet will love.
2. Transparent Hamster Balls
In addition to traditional hamster exercise wheels, many pet owners opt for transparent hamster balls as a way to provide their furry friends with exercise and stimulation. These transparent balls come in a variety of sizes and colors, and some even come in packs of two for added convenience. They are an ideal option for owners of dwarf hamsters, as the height of pets should be less than 12cm.
These balls also offer the added benefit of allowing owners to watch their pets play and explore, while also ensuring their safety. With hollow designs on both sides, these balls provide ventilation and aerobic exercise for hamsters. It's important to note that owners should never roll the ball themselves, and instead let the hamster run and explore freely. As with all hamster exercise toys, transparent hamster balls are a great way to improve agility and alertness, while ensuring that pets are happy and healthy.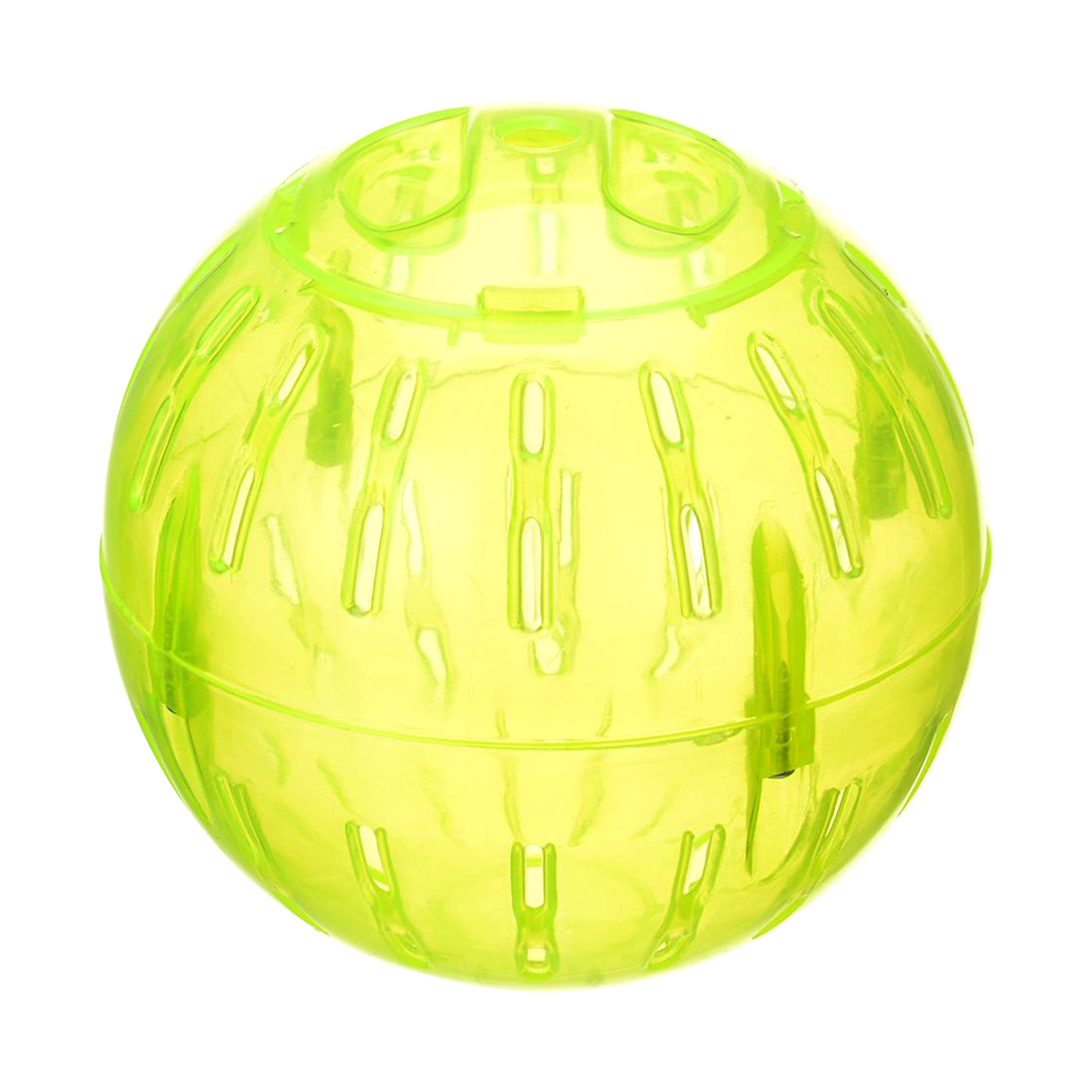 3. Pack of Two Hamster Balls
For hamster owners who want to provide their tiny pets with more exercise options, the pack of two hamster balls is an excellent choice. These balls come in different sizes and colors, fitting the preferences and needs of different hamster breeds. They are also transparent, allowing owners to observe their hamster's activities inside the ball. The pack of two hamster balls is useful for having a backup in case of damage or if more than one hamster is kept in the same habitat.
Moreover, having two hamster balls increases the stimulation and playtime for hamsters, promoting better health and reducing stress. Owners can use the balls interchangeably or switch them after cleaning. Overall, the option of buying a pack of two hamster balls is a practical and cost-efficient investment for small pet owners.
4. Different Sizes and Colors Available
When it comes to choosing the perfect exercise wheel or running ball for your furry friend, there are a variety of options available. Different sizes and colors can accommodate the needs and preferences of different small animals. Transparent hamster balls allow for a 360-degree view of your hamster as they run, while wooden and plastic wheels offer more traditional options. A pack of two hamster balls can be a great choice for multiple pets. Sizes range from 5 inches for smaller Robo or Dwarf hamsters up to 92 inches for larger chinchillas.
Moonglow, clear, and even rainbow colors are available to add a pop of fun to your pet's playtime. Remember, not all products are suitable for pet husbandry, so it's important to do your research and choose a safe and appropriate option for your beloved companion.
5. Wooden and Plastic Wheel Options
When it comes to exercise wheels for hamsters, there are two main material options to choose from: wooden and plastic. Wooden wheels are a safe and eco-friendly option, made of natural solid wood that is resistant to biting and gnawing. They are also suitable for dwarf hamsters and offer a better grip when running. On the other hand, plastic wheels are made of high-quality plastic and metal material and are naturally safe and non-toxic. They are suitable for all hamsters and come in various sizes and colors.
Whichever option is chosen, it is important to ensure that the wheel is the appropriate size for the hamster's body and allows for proper exercise without causing any harm. Additionally, silent running wheels are available for those who want to avoid any noise disturbance. With these options available, hamsters can stay active and improve their agility and alertness.
6. Ideal for Dwarf Hamsters
When it comes to choosing an exercise wheel for your furry friend, it's important to pick the right size for their species. Dwarf hamsters, for example, need a wheel with a diameter of at least 6 inches. Fortunately, there are plenty of options available to suit their needs. Both plastic and wooden wheels come in smaller sizes, and some even have a textured running surface for optimum grip. Choosing the right size wheel for your dwarf hamster can help to keep them active and healthy, as well as prevent potential injuries. So be sure to find the perfect match for your little buddy and watch their energy levels soar!
7. Larger Wheels are Better
When it comes to providing exercise equipment for your hamster, it's essential to understand that not all wheels are created equal. As mentioned earlier, bigger hamsters like Turkish or Syrian hamsters require bigger wheels, but even for Dwarf hamsters, larger wheels are preferable. The reason being that with a smaller wheel, your hamster might have to arch their back uncomfortably.
Using a larger wheel reduces the strain on their back and allows them to exercise comfortably. In fact, studies have shown that hamsters display a clear preference for larger wheels, and completely circular wheels are better than truncated ones. In summary, if you want to provide the best exercise experience for your furry friend, it's always better to go for a larger wheel.
8. Silent Running Wheels
Silent running wheels are an excellent addition to any hamster's exercise routine. As the name suggests, these wheels produce very little noise, which means that they won't disturb the peace and quiet of your home. This is especially important if your hamster likes to run during the night when everyone is asleep. The silent running wheels come in various sizes and colors, making them an ideal choice for different types of hamsters. They are also made of high-quality materials that are both durable and easy to clean.
Using a silent running wheel not only ensures that your hamster gets the exercise they need, but it can also improve their agility and alertness. These wheels are also suitable for other small animals such as sugar gliders, female rats, mice, and gerbils.
9. Improving Agility and Alertness
Hamster exercise toys, such as wheels and running balls, are not just for fun but also help to improve agility and alertness. These toys provide a healthy and safe way for small animals like dwarf hamsters to exercise and increase balance and speed. The transparent design of hamster balls allows pet owners to see their pets in action, creating interactive fun for both the pet and the owner. Larger wheels are better for hamsters, as it ensures they are running straight and on flat surface, providing a safe and comfortable exercise environment for them.
Wooden and plastic wheel options are available in different sizes and colors to cater to different preferences. Silent running wheels offer a peaceful environment for small animals to exercise, perfect for those who do not want any noise disturbance. These exercise toys are also suitable for different small animals, such as mice, providing them with the opportunity to enhance their alertness and agility in a fun and engaging way.
10. Suitable for Different Small Animals
In addition to being great exercise toys for hamsters, wheels and running balls can also be suitable for other small animals. Gerbils, rabbits, and mice can also benefit from the agility and alertness that comes with running in a wheel or ball. It's important to keep in mind the size and needs of each animal when selecting an exercise toy. Some smaller animals may benefit from a smaller wheel or ball, while larger animals may require a larger wheel to get the most out of their exercise routine.
As always, it's important to supervise any small animal during playtime and ensure their safety and well-being. Overall, wheels and running balls are a great way to provide your small pets with both physical and mental stimulation.
Latest posts by John Thompson
(see all)